Avis de recherche
----- Original Message -----
Sent: Monday, May 21, 2007 11:27 AM
Subject: avis de recherche ....
Bonjour et bravo pour cette initiative que beaucoup attendaient..

Je suis tombé dessus par hasard , mais le hasard fait souvent bien les choses.

Je m'appelle Kim DOUANGMALA et j'ai été au lycée de VT jusqu'en terminale , j'ai quitté le Laos en 1972

Je cherche bien entendu a avoir des nouvelles de mes Amis de l'époque, qu'ils n'hésitent pas à me faire signe...
A ce sujet j'ai l'impression que la photo 1971-72 TA est en fait celle de la TD1.
Même si j'ai changé, je crois me reconnaître rang du milieu, 5em à partir de la gauche, avec notre prof de math "Lesage" que nous appelions Kham Hou !!!, et pas mal de visages connus même si je n'arrive pas à mettre de nom dessus.

En attente des mails de ceux, qui sans être mélancoliques, souhaitent échanger sur ce que nous avons vécu depuis ...

en tous cas bonne chance à tous et bon succès à ce site !!!!

Kim

Kim DOUANG MALA.
CSTJF (PAU)- bureau M048 - tel 33(0)5 59 83 60 51
mail privé: douangmala.kim@free.fr

----- Original Message -----
From: "Benoit Collier" <Benoit.Collier@>
To: <aslvte@gmail.com>
Sent: Monday, August 07, 2006 12:41 PM
Subject: Recherche


Bonjour!
En 1959/1960,j'étais dans une école primaire en classes de 8e/7e (CM1/CM2)
avec un jeune laotien nommé Pathamavong qui aurait aujourd'hui 54 ou 55 ans.
Cette école,à Pau,dans le Sud-Ouest de la France s'appelait Collège de
l'Immaculée Conception.Ce garçon a dû repartir au Laos vers 1960/61 et il se
peut qu'il ait rejoint le lycée de Vientiane.
On disait qu'il était de la famille royale.
Je serais trés heureux de retrouver les traces de cet homme et je vous
remercie d'avance de l'attention que vous porterez à ma demande.
Bien cordialement,
Benoît Collier.

Sent: Friday, June 23, 2006 12:23 PM
Salut!
J'etais eleve du Lycee de Vientiane de 1965 a 1973. J'ai eu mon BAC "B", et je suis alle en France avec Somphet Sananikone.
Voice les noms de quelques de mes professeurs: Mr. Jean Francois Poly (Prof d'Economie) et Mr. Jean-Etienne Cohen-Seat (Prof d'Economie). A present je vis a Hawaii.
Je serais bien content de recevoir des nouvelles de mes anciens amis/amies.
Trung
(Phan Huynh Trung)
Dear Friends,
My name is Trung. I was a long-time student of the Lycee de Vientiane and a 1972-73's graduate in Section B.
Some of my friends are: Somphet (Sananikone), Som, Somxay (Vongkhamchanh), Outhavy, Khampheui (Sygnavong), Tuyet Van (Tran Thi), Quang (Cao Duc), Thang (Ngo Toan), Nitsavath and his girlfriend Chandara.
Some of my professors are: Mr. Poly, Cohen-Seat, LeSage, Loche, Morris, Anger, Supramanien, LeCante, and Mrs. Pedrono, Mis. Wildsmith and Smith.
I would apprecaite it very much if you would post this message on the Lycee de Vientiane's webpage. I hope to hear news from anybody to recognize me.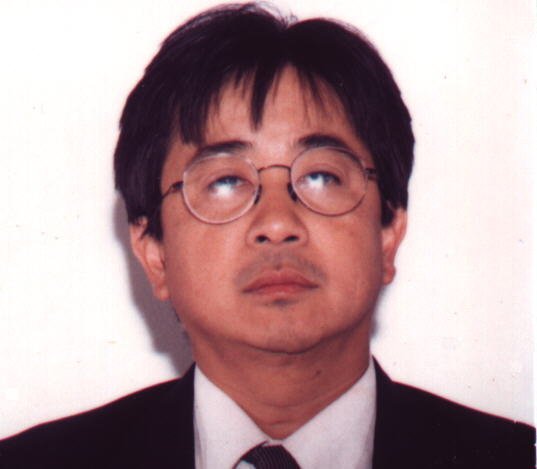 trunghphan@
Thank you,
Trung
----- Original Message -----
From: "yann jan" <yfbjan@>
To: <aslvte@gmail.com>
Sent: Wednesday, February 22, 2006 10:26 PM
Subject: classe de 7eme 1966/67

Bonjour,j'ai été scolarisé au lycée de vientiane de 1965/67 et je
recherche d'anciens camarades de cette époque,existe-t-il en France une
amicale des anciens de ce lycée.
Cette photo date de 1966 à 67,classe de 7eme.: http://lyceevte.online.fr/lyceevte/images/Ai-Noy.be/Plyceelaos.jpg
Cordialement,Yann JAN.

----- Original Message -----
From: <patrick.lebette@

>


To: "Aslvte" <Aslvte@Gmail.com>
Sent: Sunday, March 27, 2005 1:01 AM
Subject: ancien professeur


Bonjour,

J'ai trouvé votre adresse en faisant des recherches sur
internet concernant mon grand père (aujourd'hui décédé). Il
a été professeur au lycee Pavie de Vientiane en 1951-52 si
les informations en ma possession sont exactes. Mon grand
père a travailé 10 ans au Laos au ministère de l'éducation
nationale.
Des conversations que j'ai eu avec mon grand père, il
ressort que son séjour au laos a été la plus belle période
de sa vie.
Si des anciens éléves avaient des souvenirs ou témoignages
qu'ils accepteraient de partager, j'en serai très heureux.

J'habite en France à 25 km à l'ouest de Paris.

Meilleures salutations.

Patrick LEBETTE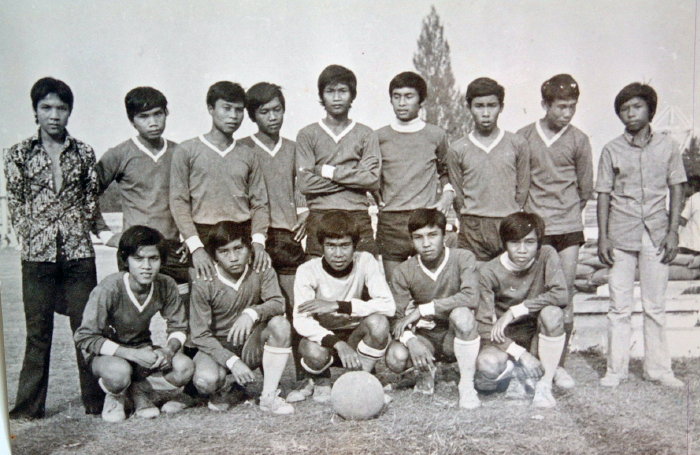 I'm looking to contact my old friends whom most of them live in France
(a Goal keeper is death) around 4 persons living in Laos or died, 2 persons living in US including me. That was "Khouane Muong" football team at Stade Kouvoravong Savannakhet 1972-73 during la celebration du Vanh Xat (National Day).

Thank you
Thip
*je suis debout avec l'uniform de colar blanc au quatrieme à partir de la droite.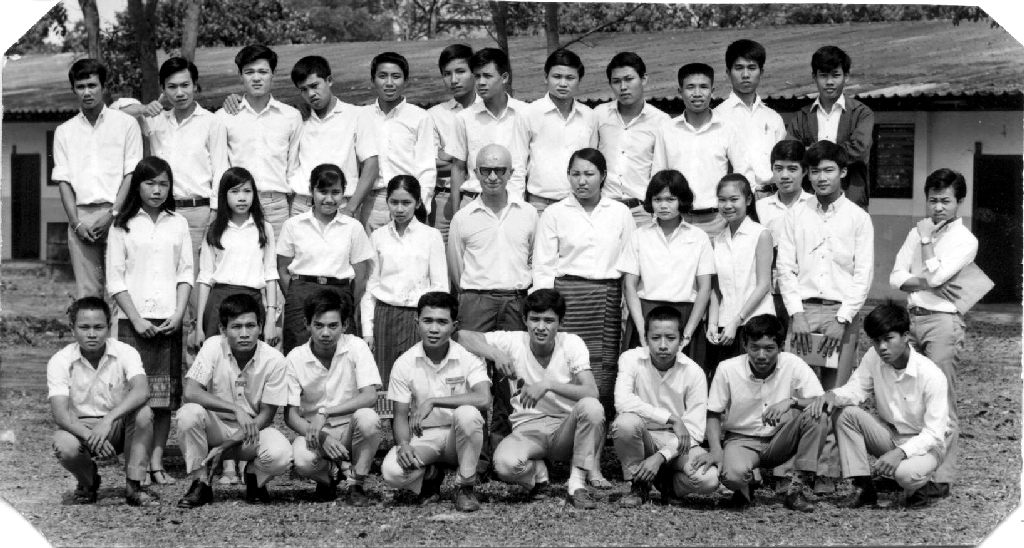 Here is the class of 1968, Lycee Vientiane, I am directly above the teacher (back row, 6th from LHS). I really appreciate if you could make this photo public and wish to re-establish contact after so many years.
I am now at Whyalla (City where I work) .
May 2005 brings you happiness and prosperity.
Je suis a la recherche de mes amis. J'étais au Lycée de Vientiane aussi quand j'étais petit. Voila ma photo quand j'avais 17 ans. Je pense que vous pouvez m'envoyer un message si vous me connaissez dans le passé.
-----------------
Hello all,
I was also in French school in Vientiane, Laos during 1967 - 1974. If you can recognize my face, and if you were my classmate at that time, please write me. I hope to see some of my old friends. Have a good day.
Khamsing Sitthidet
From: palom2

To: aslvte@online.fr

Sent: Monday, July 09, 2001 6:11 PM

Subject: premier lien depuis Vientiane !

bonjour chers compatriotes !

Tous mes encouragements pour votre association !

Initiative courageuse, que je soutiens de tout mon coeur, d'autant plus que j'etais moi-meme, éléve du "mythique" Lycée de Vientiane ! Je l'avais quitté en 1975, j'étais en 2nd

D'ailleurs, je lance un AVIS DE RECHERCHE, de tous mes anciens camarades de cette époque bénie !

Mon nom est Palom SANANIKONE ; palom2@wanadoo.f r

Eh, oui, quand les cheveux commencent à blanchir (un peu seulement !), on se remémore ses anciens temps...(soupirs ! ).
Bon courage et merci, Sangna !
Hakpheng, palom
De:Patrick Lertpanya (Lertpanyap@)

Objet:Searching for long lost friend

Groupes de Discussion:soc.culture.laos

Date:2001-06-05 07:52:37 PST

I don't know whether it is appropriate to post my concern in this

forum because I am searching for my friend whom we did not meet for

over 26 years. His name is "Moualipoa". We were classmates and friends

since 1971 when we began our study in "Lycee de Vientiane". In order

to retrieve your memory, let me remind you our teachers at that time.

1971-72= Mr. Soulier was our teacher ( classe de 6ieme B5)

1972-73= Mme. Oberdoff (classe de 6ieme A6)

1973-74= Mr. Baudin (classe de cinquieme)

1974-75= Mr. Halimi (classe de quatrieme) and you were gone since

then. But I did get some information from friend of mine telling me

thatMoualipao has been settled in the United States.

As I am from a very poor family, I didn't have many friends at that

time. Moualipao and I were shared the same reputation, same

background, and same social status. We later became best friend. If

you would happen to read this message, please contact Lert (new name)

at the University of Arkansas for Medical Sciences. I now am

practising physician in the university hospital in Little Rock.
Hakpheng.
Lert
F
rom: Aroun Phanekham : arochiephanek@

Sent: Saturday, July 07, 2001 4:35 AM

Subject: Looking for an old dear Friend Ketkeo Phoingphet

I attended Lycee de Vientiane in 1975 in the classe de 6e. Before that I attended the Petit Lycee de Vientiane from 10e to 7e. I have left many friends behind in Laos, and one of them Ketkeo Phoinphet was a very dear friend. I'm not sure if he had left the country or not. If anyone of knows or hears about, and thinks you know me personally, please do not hesitate to contact me. It'll be a great pleasure for me to get in contact with you again.

Many thanks,
Aroun PHANEKHAM : arochiephanek@

Aroun & Chiemi PHANEKHAM

The Cutest Couple on the Gold Coast
My Name was Som-Ock Syharath
I attend Lycee de Vientiane from 1968 to 1976.

I finished Terminal C in June 1976

J'ai terminé la Terminal C Juin 1976.

I can remember most people in Terminal in the year 1975-1976 and also most people in Seconde 1973-1974 and also Premiere 1974-1975.

Any one who know me and who is interested in corresponding with me please do not hesitate in email me at this address : Sethathirath_the_iv@yahoo.com or Dr_Som_Ock_Syharath@yahoo.com
Sincerement Som-ock Syharath.
Please Note that my current legal name had been change to: Anouvong Sethathirath, IV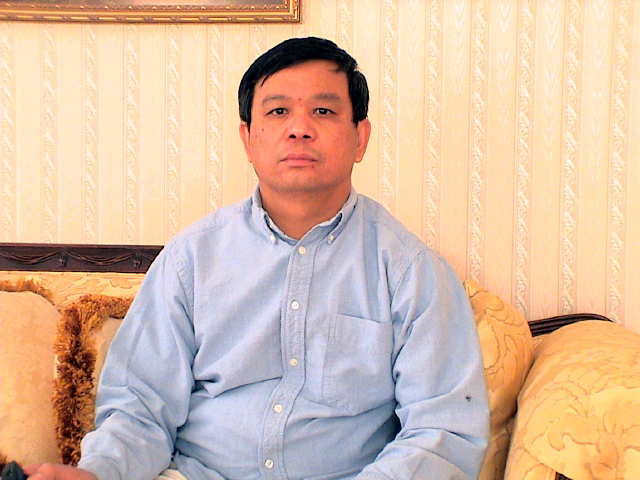 From: Phillip McRowan : pmcrowan@home.com

To: aslvte@online.fr

Sent: Friday, August 03, 2001 5:26 AM

Subject: Recherche des Amis
My Name is Som-Ock Syharath
I attend Lycee de Vientiane from 1968 to 1976. I finished Terminal C in June 1976

Je terminai le Terminal C Juin 1976.

I know most people in Terminal in the year 1975-1976 and also most people in Seconde 1973-1974 and also Premiere 1974-1975.

Any one who know me please do not hesitate in email me at this address :
pmcrowan@home.com
J'ai un point noire au millieu des soucils et Je m'appele Som-Ock.

J'espere encontrer mes amis
Sincerement Som-Ock
Dear Sirs,
I wish I have some of my photo from Lycee de Vientiane.

I will ask my Parents if they have brouht from Laos.

I would love to have some of the souvenir photos myself.
Som-Ock Syharath
Fairview, NC 28730

USA